Passionate and professional HR partner

---

with 18 years of experience in Greenland
18 years of experience combined with talented consultants, all of whom have a passion for and an understanding of Greenlandic culture. Our consultants have a background and many years of experience at executive and manage- ment level in both private and public sector companies. This competence, combined with many years of experience in recruitment and management, ensures that we can provide advice at all levels of a company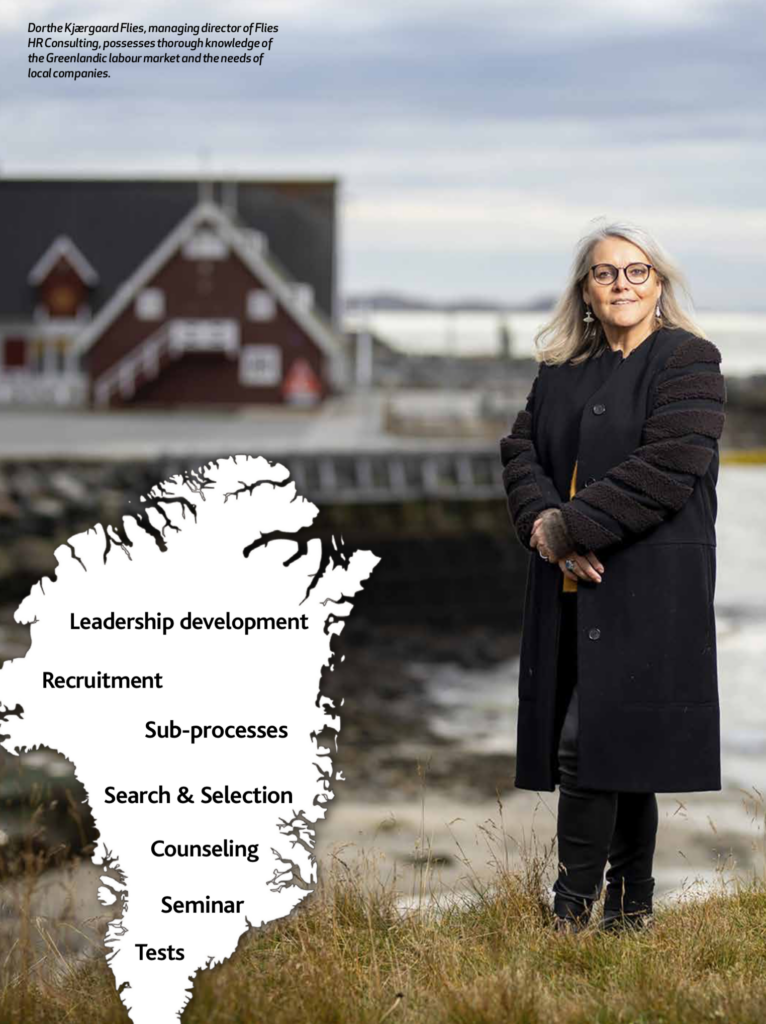 Flies HR Consulting has been active in Greenland for 18 years and thus possesses a thorough knowledge of the Greenlandic labour market.
"One of our advantages is that we always undertake a very broad search. Our searchers sometimes go through 800 to 1,000 potential candidates when we're looking for someone for a position in Greenland," says Dorthe Flies, partner in Flies HR Consulting.
This meticulous and passionate approach to the tasks also means that Flies HR Consulting provides a guarantee that a given position will always be filled.
"We don't give up, but continue until the position is filled. Sometimes the process may drag out, but we always reach the finish line," says Dorthe.
In-depth understanding of business needs
"We bear the cost if a recruitment process drags out, and this helps to give our clients a sense of security," says Dorthe Flies, who emphasises that all of the company's tasks are based on mutual trust, built up over many years.
"Thanks to our extensive knowledge of Greenland, we can also offer advice, which is a large part of our business and raison d'être. We know the companies well, so we are often involved right from the start of the process. This might for example be when a new department is being set up, or a new position is being created in a company, or a management team is being put together in a new structure."
Dorthe Flies herself has more than twenty years of experience as well as a collaboration with a large consultancy on management training. This means that the company's advice is not just limited to recruiting, but can also be applied at strategic and board level.
Much more than recruiting
"We work with Greenland because we have a passion for the country and its companies. That's something our customers can sense, and it also contributes to our work with other projects in the country," says Dorthe.
Arctic Management on the agenda
The dedication of Flies HR Consulting to Greenland's business community is also expressed through the holding of two annual management seminars in Nuuk under the heading "Arctic Man- agement". The seminar has been a regular, recurring event for five years, and 38 different companies attend twice a year.
"We enjoy great backing from both public and private sector companies who wish to support the seminar, which is based on a non-profit model and has been created solely to provide inspiration and knowledge sharing in Greenland. The new programme for 2020 will be ready soon, and we are looking forward to presenting it within the next few months," says Dorthe Flies.